Bears Retreating as Europe Shorts Sink to Seven-Year Low
All Rights Reserved. Disclaimer The Dow Jones IndexesSM are proprietary to and distributed by Dow Jones & Company, Inc. and have been licensed for use. All content of the Dow Jones IndexesSM 2013 is proprietary to Dow Jones & Company, Inc. Chicago Mercantile Association. The market data is the property of Chicago Mercantile Exchange Inc. and its licensors. All rights reserved. FactSet Research Systems Inc. 2013. All rights reserved. Most stock quote data provided by BATS.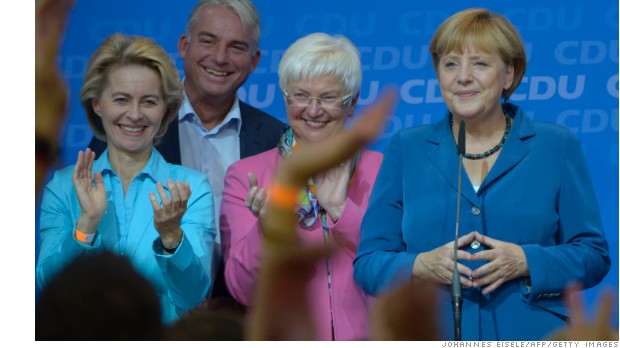 German coalition: what does the SDP want? Fri, 20 Sep '13 | 11:05 AM ET Artur Fischer, joint CEO of the Berlin Bourse, highlights how tight the election race is in Germany and discusses what it would mean for the social democrats to be in the ruling coalition. Uncertainty may loom for Germany Fri, 20 Sep '13 | 11:00 AM ET Peter Schaffrik, head of European interest rate strategy at RBC, says that even if the current German coalition gets back to power in Germany, its majority might be so tiny that it could bring uncertainty. CNBC Meets: Will.i.am, part one Thu, 12 Sep '13 | 7:00 PM ET Accompanied by his mother and lifelong friend and partner Apple, Will.i.am retraces his childhood in a tough area. He explains how his stage name came about and discusses the early years of the Black Eyed Peas. CNBC Meets: Will.i.am, part two Thu, 12 Sep '13 | 7:00 PM ET Will.i.am talks about his commitments outside of music, including his many philanthropic projects such as the i.am.angel Foundation and the work he is doing with the U.K.'s Prince's Trust. 'Very optimistic' on US stock market: pro Fri, 20 Sep '13 | 5:50 AM ET Alan Knuckman, senior market analyst at Trading Advantage, explains that there is "still some upside" in the U.S. stock market. Regulatory burden on business increasing: expert Fri, 20 Sep '13 | 5:30 AM ET Brian Brenberg, assistant professor, explains what economic freedom is and why the U.S. has slipped from the second place worldwide to the seventeenth in one year. Greece: 'social fabric is fraying' Fri, 20 Sep '13 | 5:25 AM ET CNBC's Julia Chatterley reports from Athens on the rise of the far-right party, Golden Dawn, and how politics and economics are "colliding" in Greece. Merkel has no 'big European vision': expert Fri, 20 Sep '13 | 5:00 AM ET Olaf Bohnke, head of Berlin office at the European Council on Foreign Relations, says Angela Merkel has no "big European vision" sitting in the side-lines and will continue on her crisis management path. How to find value in equities Fri, 20 Sep '13 | 5:00 AM ET Andrew Burkly, head of institutional portfolio strategy at Oppenheimer & Co., agrees with Warren Buffet that finding value is getting harder and advises looking "underneath the index".
Mutual funds that buy European equities have attracted $13.1 billion in the past six weeks, according to data from Societe Generale SA and EPFR Global Inc., a research company in Cambridge, Massachusetts. That compares with outflows of $4 billion for funds that buy American stocks. Investors would need to send about $100 billion to European shares to restore the amount withdrawn since 2007, according to estimates from Paris-based Societe Generale based on data through the end of August. The Euro Stoxx 50 has returned 61 percent including dividends after sliding to a two-year low on Sept. 12, 2011, data compiled by Bloomberg show. Stopped Deteriorating There are a lot of reasons why you dont want to be underweight Europe, said Robin Thorn , who helps oversee $70 billion as head of equities at PineBridge Investments LLC in New York. Things have stopped deteriorating. That doesnt mean that things are great, but they have stopped getting worse. Europes debt crisis helped keep both bulls and bears out of the market, according to Stuart Jarvis , who helps manage securities lending at Citigroup Inc. in London. An average of $14.9 billion worth of stock has traded daily during 2012 and 2013 in Germany, the U.K. and France, the least ever, according to data compiled by Bloomberg going back to 2004. The number of Euro Stoxx 50 shares changing hands has dropped 18 percent this year to 710 million a day, the data show. There has been a lack of allocation to Europe, Jarvis said in a phone interview on Sept.
NATO chief urges Europe to fill drone, aircraft gaps
officials, and Rasmussen himself, have expressed growing concern that defence cuts pushed through by cash-strapped European governments have created a big gulf between U.S. and European military capabilities and risk weakening NATO. The European Union has also launched a debate, set to culminate in a summit of European leaders in December, on how Europe can strengthen its arms industry and bolster a common defence policy. In a speech to the Carnegie Europe think tank in Brussels on Thursday, Rasmussen will argue that a strong NATO needs "a strong Europe – with strong capabilities, strong defence industries, and strong political commitment," NATO officials said. He is expected to urge European allies to strengthen their capabilities in key areas, saying they should acquire more surveillance drones, more large transport and air-to-air refuelling aircraft and more upgraded ship radars so they can be integrated into NATO's planned missile defence system. As the United States turns its strategic focus increasingly towards Asia, it is banking on Europe to take more military responsibility in its backyard. But during the 2011 Libya conflict, European states had to rely heavily on the United States for air-to-air refuelling, intelligence and surveillance. Rasmussen will also say that Europe needs a strong defence industrial base, arguing that the continent's defence industry remains too national and fragmented, NATO officials said. He will welcome proposals put forward by the European Union's executive Commission in July to make the industry more efficient and competitive. The Commission proposed helping Europe's defence industry cope with falling military budgets by funding research and aiding the development of new technologies with military uses. British Defence Secretary Philip Hammond voiced scepticism over the Commission's proposals last week and said London would oppose any moves to enforce new rules on the region's defence industry that damaged British companies' competitiveness. Drones are an area where Europe lags the United States and Israel.